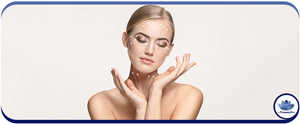 PRX-T33 Facial Treatments in Lake Zurich, IL
Cara Mia Medspa Offers PRX-T33 Facial Treatments to Patients Interested in non injectable biorevitalizer Treatment. To Request a Consultation With One of Our Aesthetic Professionals, Please

Call Us

or

Book an Appointment Online

.

Table of Contents:
What is a PRX-T33 Facial Treatment?
When will I see results?
The aging process can cause the skin to lose its glow, develop an uneven tone and texture, cause the formation of fine lines and wrinkles, hyperpigmentation and sagging skin. At Cara Mia Medspa, we are committed to helping our patients achieve their aesthetic goals so they can look and feel like the best version of themselves. We offer PRX-T33 Facial Treatments which is next generation of skin peels without Any Downtime.
Are you interested in learning more about the PRX-T33 Facial Treatments offered at Cara Mia Medspa? Contact our office in Lake Zurich today for more information or to schedule a consultation with a member of our staff!
What is a PRX-T33 Facial Treatment?

PRX-T33 is a new generation TCA skin treatment. It is not a peel because it does not cause frost but it acts deep within the tissue.

It is a non-injectable bio revitalizer that induces dermal stimulation without harming the skin.

PRX-T33 Treatment benefits:

– Safe for all skin types
– Non-invasive
– No extensive peeling
– No downtime
– Painless
– Can be combined with other treatments like Microneedling or PDO Threads

PRX-T33 Peel can treat:

– Aging
– Lax sagging skin
– Hyperpigmentation
– Sun damaged skin (face, neck, chest, hands, arms)
– Scars
– Acne
– Stretch Marks
– Malasma
– Prevention of dermal aging

The formula of PRX-T33 makes the peel incredibly effective in penetrating the deeper layers of the skin, causing intense stimulation, immediate hydration, firmness and tightening of the skin, while leaving the top layer of the skin intact.

PRX-T33 Treatment is indicated for Women, Men and Teens. It can be performed at any time of year and is safe for all skin types.
When will I see results?

Results of PRX-T33 treatment are immediate. Every treatment builds upon last. 3 to 5 Treatments a week apart are recommended for best results.