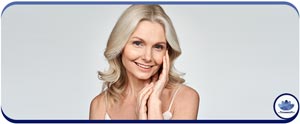 Revitalization Injections Questions and Answers
Cara Mia Medical Spa offers Revitalization Injections. If you feel that your skin needs a rejuvenation,

Contact us

Now! We serve patients from Lake Zurich IL, Barrington IL, Kildeer IL, Deer Park IL, Tower Lakes IL, and Hawthorn Woods IL.

While aging can gift you with experience and wisdom, it doesn't do your skin any favors. For many people, the aging process can be rather unkind on the skin. Wrinkles and sagging are but two common signs of aging skin among others. If you feel that your skin could use a rejuvenation, Cara Mia MedSpa offers revitalization injections to help restore youth to your aesthetic!
What are revitalization injections?
Revitalization injections is an antiaging treatment for intense rejuvenation and hydration of tired or dull skin, treatment of wrinkles and redensification of mature or slack skin. Special serum containing highly concentrated hyaluronic acid and solution of vitamins, minerals, nucleic acids, amino acids, coenzymes is injected using very fine needles to the face, neck, decollete, back of hands and arms.
What is hyaluronic acid?
Hyaluronic acid is a molecule that is naturally found in the body to deliver important nutrients and maintain moisture, a soft texture, and volume. As we grow older, our skin gradually loses volume and is not able to maintain moisture and a soft surface like it can while we're young. Our hyaluronic acid serum can help replenish volume in the skin for a youthful, luminous glow.
Who is a good candidate for a hydration or revitalization injection?
Anyone who feels that their skin volume, texture, or tone is lacking due to the effects of aging may be a good candidate for a hydration or revitalization injection. By scheduling your consultation with our team, you can discuss your aesthetic concerns so that we may help you decide a serum that can best benefit you.
With our hydration and revitalization injections, there is a possibility to be wise without the lines to prove it. Contact us today to schedule your consultation appointment so our staff can help you decide which of our injections can best address your aesthetic!