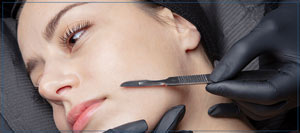 Dermaplaning Treatment Questions and Answers
At Cara Mia Medspa, our Dermaplaning Specialists would be happy to provide you with Dermaplaning Treatment in order to smoothen your skin, brighten it, and unleash its natural radiance! For more information,

call us

or

schedule an appointment online

. We serve clients from Lake Zurich IL, Barrington IL, Kildeer IL, Deer Park IL, Tower Lakes IL, and Hawthorn Woods IL.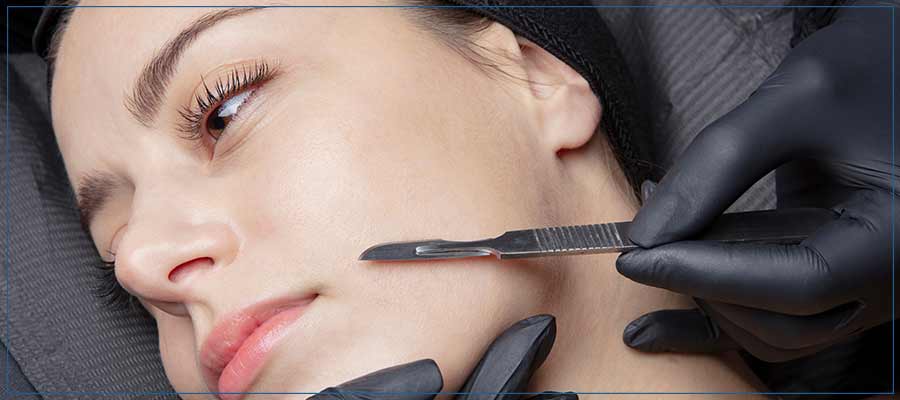 Table of Contents:
What is dermaplaning?
Am I a candidate?
This aesthetic treatment removes the top layer of dead skin cells and unwanted peach fuzz facial hair to reveal the healthy, radiant, undamaged skin beneath it.The outermost layer of our skin is primarily composed of dead skin cells, dirt, and oil, and a buildup of this layer can cause the skin to look dull. Exposure to environmental factors, UV rays, and other external factors can also cause damage to the outer layers of the skin and cause it to develop a rough, uneven appearance and texture. Our dermaplaning treatments can result in a smoother, more even skin texture, and a brighter, more even tone and help patients achieve radiant, younger-looking skin.
Do you want to learn more about the dermaplaning treatment offered at Cara Mia Medspa? Contact our office in Lake Zurich today for further information or to schedule a consultation with a member of our team!
What is dermaplaning?

This aesthetic treatment manually exfoliates the skin using a sterile medical-grade scalpel to gently slough off the outer layer of dead skin and fine vellus hairs, or "peach fuzz." Dermaplaning is a non-invasive treatment and is one of the most gentle forms of manual exfoliation, making it an ideal treatment for patients with sensitive skin.

Benefits of Dermaplaning

– Softer, smoother skin
– Removes "peach fuzz"
– Brighter, more radiant skin appearance
– Smoother makeup application
Am I a candidate?

This exfoliating aesthetic treatment is an option for men and women who are interested in improving the overall tone and texture of their skin. Dermaplaning is safe for more skin types, including sensitive skin and skin affected by rosacea. Patients with acne prone or excessively oily skin are not candidates for dermaplaning treatments. We will review your skin type, skin concerns, and desired results of treatment during your consultation and determine if dermaplaning is the right choice for you.

Combination therapy with MicroInfusion Facial Treatment

We offer combination therapy with our Aquagold Fine Touch MicroInfusion Facial Treatments. Together, these treatments can help improve the overall health and quality of your skin and restore a radiant, younger-looking appearance.

Are you interested in finding out how you can get clearer, brighter, younger-looking skin with the dermaplaning treatments offered at Cara Mia Medspa? Contact our office in Lake Zurich today for more information or to schedule a consultation with a member of our staff.