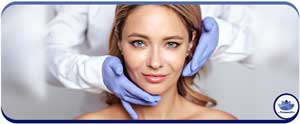 Botox® and Jeuveau Injections Questions and Answers
Are you looking for a way to make your skin look younger? We can help! Our med spa specialists offer Botox® and Jeuveau Injections. For more information,

call us

or

schedule an appointment online

. We serve patients from Lake Zurich IL, Barrington IL, Kildeer IL, Deer Park IL, Tower Lakes IL, and Hawthorn Woods IL.

Cara Mia Medspa offers Botox® Cosmetic and Jeuveau injections for patients looking to improve the appearance of dynamic wrinkles, like frown lines and crow's feet. Dynamic wrinkles form as a result of repeated contractions of the facial muscles due to common facial expressions like squinting, smiling, or frowning. This neuromodulator temporarily blocks chemical signals from the nerves to the facial muscles, relaxing the muscles and softening the appearance of fine lines and wrinkles in the treatment area.
Benefits of Botox® Cosmetic and Jeuveau
Minimally-invasive
Little to no downtime
Quick treatment sessions
Customizable treatment sessions
High patient satisfaction
What is Botox® Cosmetic and Jeuveau?
Botox® Cosmetic and Jeuveau is an injectable form of botulinum toxin, a neurotoxin that temporarily relaxes the facial muscles and inhibits their ability to contract, which smoothes the wrinkles and lines in the skin over the muscles. We use a fine needle to inject product directly into the muscles of the designated treatment area. These injection sessions typically last no more than 30 minutes and have little to no downtime associated with them. Patients are able to return to their daily routine immediately after an injection session.
When will I see results?
Results of the treatment typically become visible within 10 to 14 days of an injection session. Results can continue to improve for up to a month after an injection session and last for about 3.5 months.
Common treatment areas include:
Crow's feet
Frown lines
Forehead
Brow area
Lips flip
Neck lines
Smoker lines
Are there any side effects?
You may experience some temporary injection-related side effects like bruising, tenderness, mild swelling, and/or discomfort or itching at the injection site. These side effects typically subside on their own within a few days of an injection session.
Am I a candidate?
Botox® Cosmetic is a treatment option for men and women interested in improving the appearance of facial wrinkles and reducing the visible effects of age. Before your treatment, we will review your general health, medical history, and goals of treatment and determine if Botox® is the right choice for you. If you are a candidate for Botox®, we will work with you to develop a customized treatment plan that best suits your needs.
Are you interested in learning more about how you can combat the visible effects of age with Botox® Cosmetic? Contact our office in Lake Zurich today for more information or to schedule a consultation. We look forward to assisting you!
*Results may vary and results are not guaranteed.